cultural drum ensemble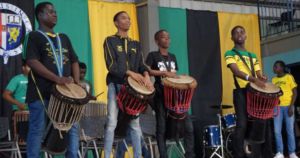 The Cultural Drummers Ensemble is geared towards cultivating a space for students to be exposed to traditional Jamaican Drum Music. The Society provides training that enables the youngster to perform at several External and internal functions.
Being a multiple Award-winning Ensemble in competitions such as the Jamica Cultural Development Commission JCDC the core aims to always provide an avenue for students to participate in Jamaica College Culture of Excellence.