In small pockets I have been giving the drummers exposure to different types of events/performance. Here is a list of places we have been This Term.
1) Playing for the launch of the east south high way.
2 ) Three community workshops MONA COMMON
STANDPIPE
TIVOLI
Sessions were held at the community center and The team was invited by Manifesto Ja as a part of the Manifesto series.
3) Rubis Headquarters – Staff Luncheon
3) JDF Christmas Treat
5) Rubis Inpluse Art Festival
6) The NATIONAL Student council ( conference)
7) National Drug abuse conference.
8) UWI Law Conference
9) JC Achievement Day
10) JC PTA
11) Architect Association of Jamaica Evening Awards and Recognition
12) JPSCU – Performances
This is what I remember pardon moi.
From the Grand Gala I have been drawing the out one by one.
cultural drum ensemble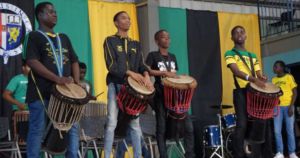 The Cultural Drummers Ensemble is geared towards cultivating a space for students to be exposed to traditional Jamaican Drum Music. The Society provides training that enables the youngster to perform at several External and internal functions.
Being a multiple Award-winning Ensemble in competitions such as the Jamica Cultural Development Commission JCDC the core aims to always provide an avenue for students to participate in Jamaica College Culture of Excellence.