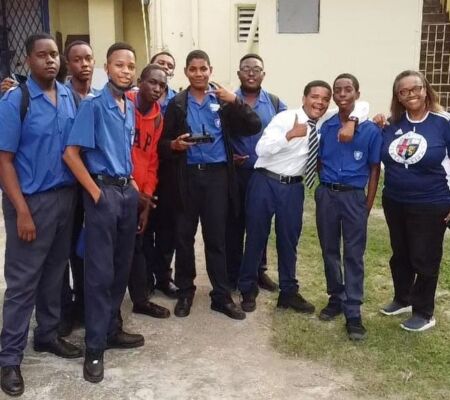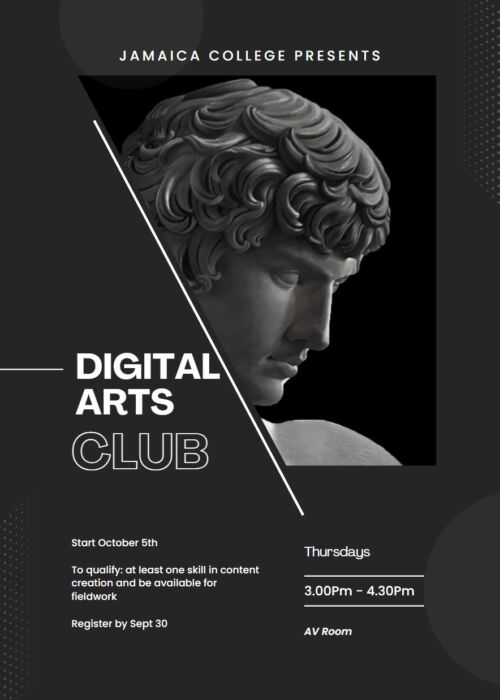 DIGITAL ARTS CLUB: Run like a mini-advertising company for Jamaica College. Unlike most of the clubs that are at Jamaica College, there is an application process.  Students and leaders of the Digital Arts Club do not automatically become members in the following year.  Everyone is to reapply and leaders are to share with the team their strengths and why they should be leaders in the current year.
Much of the content of the JC Website, JC YouTube, Yearbooks and promotional media, are created by members of the Digital Arts Club.  Continue to enjoy their works.
In September the applications open and meetings begin in October. This club develops content for the website, yearbook, social media, marketing material and cover events.  There is little time for teaching the skills, the concept of the club is to build experience with the skills or passion you already have.  You can join with one of the following skills and during the months, garner other skills from team members and guest speakers.
Skills that are honed are:
Photography, photo-editing, videography, video-editing, graphic designing, editorial writing and other related skills.
Members must maintain a high standard of conduct and professionalism.  If they miss 3 consecutive meetings, they are asked to leave. If disruptive or not able to act professionally, they will be asked to leave.
Dues are $500 per month, paid to the librarian.
Meeting times are in the AV Room on Thursdays 3 -4:30 pm and sometimes on the field if covering an event.
Only registered members are allowed to attend meetings. Serious members only, are encouraged to apply.
Faculty Advisor: Ms. D. MacGregor-Bromfield
CLICK HERE TO JOIN or email JCd[email protected] if there are questions (checked weekly)
_____________________________________________
Where imagination meets creativity
DAC exec 2019-2020
Founded October 2017 with Bruce English, Tariq Creary and team, with staff advisor, Dawn MacGregor-Bromfield.
The club brings together the creative talent of photographers, videographers, graphic artists, record producers and editors. Much of their output is seen in shared social media posts, the school web site and the year book.
The club has had the privilege of some of the top creative producers of film, photography, advertisements and other related creative work sharing professional tips and motivating the team to hone their talents.
Members share their talent in a portion of the meetings known as "member's moment" and some do elaborate presentations to help teach others how to edit photos and videos.
An exclusive, well sought-after team that remains professional and focused.
If you wish to engage our services, please fill the required form
Videographer, Gareth Daley, shares on his journey

Will Twort shares on Photography

Cornelius Grant (actor, producer, director) shares on videography

Club meeting in Lab B

Execs do tutorial on photography

Learning how to hold the camera properly

Member's Moment

DAC Members 2018-2019

Executives with our guest

Mickoy (President) thanks the guest speaker Gareth Daley

DAC exec taking ID pictures

Founders of DAC (2017-2018)

Club Meeting

Getting ready

Top Performer 2017-2018, now the VP of 2018-2019
DAC in action - JC Ashenheim Stadium Grand Opening