BLUE BEAT drum ensemble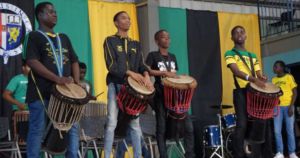 The Cultural Drummers Ensemble is geared towards cultivating a space for students to be exposed to traditional Jamaican Drum Music. This Society provides training that enables the young college men to perform at several external and internal functions.
Being a multiple Award-winning Ensemble in competitions such as the Jamaica Cultural Development Commission (J.C.D.C). The core aims to always provide an avenue for students to participate in Jamaica College's Culture of Excellence.
OBJECTIVES
The

Drumming Programme

is designed to expose members to

Stage Craft and Performance.

Our engagement allows students to explore the rich history of

World Music

and cultural retentions.
We aim to  cultivate personal awareness and promote community and cooperative skills.
The Society prides itself in using Arts  as advocacy.  This year we partnered with Manifesto Ja.  This saw our drummers giving workshops and  sharing their knowledge  of the art with participants.  We would like to extend a big thank you to Manifesto Ja who was equally excited to see the  young college men in their element. Sessions were held at the community centres and the team was invited by Manifesto JA as a part of the Manifesto series.
Communities visited
BOOKing THE JC BLUE BEAT drummers
We are always looking for partners to have the drummers perform. To partner with us get in touch with the principal or the
ensemble coach.  See the Contact Us page for details.
External Performances
Rubis Headquarters – Staff Luncheon

J.D.F Christmas Treat

 Rubis Inpluse Art Festival

The National Student Council -Conference

National Drug Abuse conference.

 U.W.I MONA Law Conference

JPS Credit Union Customer Appreciation Day
Internal Performances 
JC's Achievement Day

JC P.T.A Meetings

Architect Association of Jamaica Evening Awards and Recognition
NOTABLE ACHIEVEMENTS
2018-2019-YEAR SUSPENED 10 GOLDS -2 SILVERS
2019– 2020 7 GOLDS 3 SLIVERS 1 BRONZE – 3 NATIONAL TROPHIES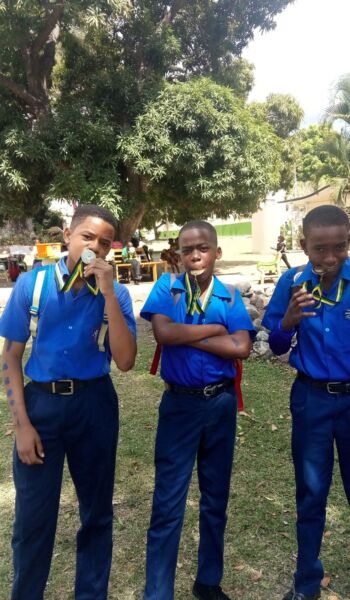 HOW TO JOIN?
Auditions are held once per year during the first term of the school.
Students are required to fill out an application form which will be placed on this page when it is open.
All Jamaica college students are eligible to be a part of the Drumming Ensemble. They are however required to do an audition. From this audition process students will be selected to be a part of the beginners' incubator for 8 weeks. After which your knowledge, skills and attitude will be assessed and you will be officially inducted.
National Events
We were honoured to be a part of the historic launch of the east south highway project. Representing the Jamaican Culture.
The Blue Beat Drummers were also featured in the 2019 staging  of Jamaica's National Grand Gala.