SWIMMING 2023-2024
Swimming at JC is on the rise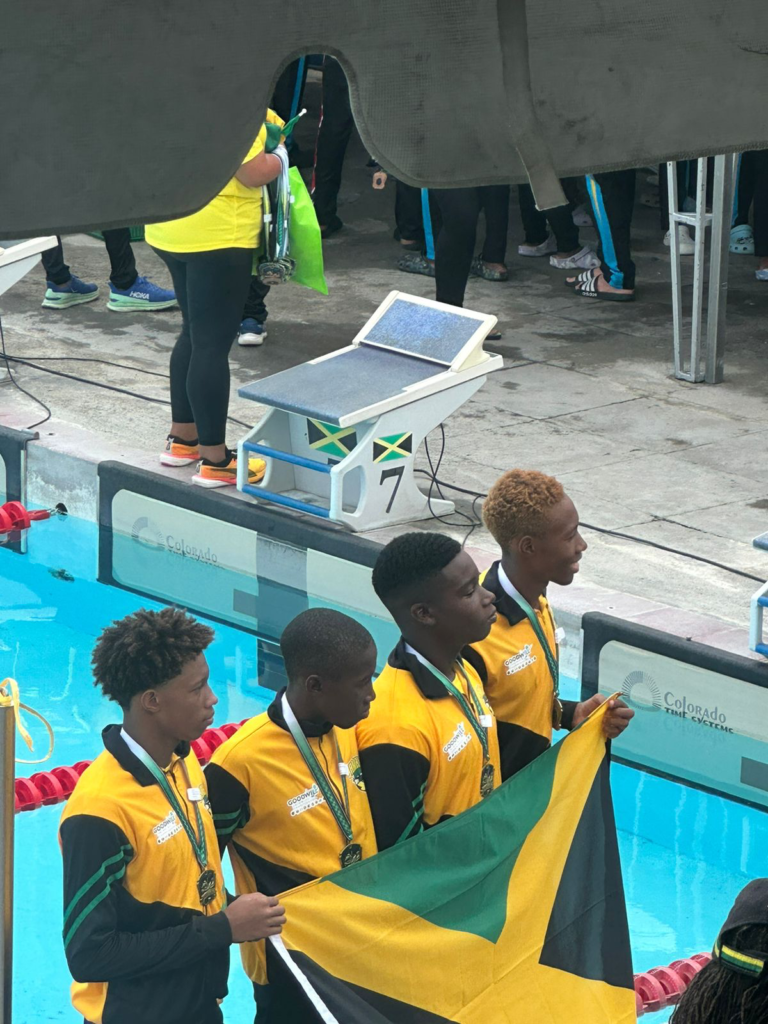 Some of our swimmers competed this summer with promising results.
6th former
Israel Allen
Carifta – Triathlon
Gold medal  – age group 16-19 in Aquathalon event. A true Collegeman
4th formers
Marly Hessing
Goodwill Games
2 relay record breaking gold medals. Individual bronze with a time that also dipped below the meet record
Zack-Andre Johnson
Carifta Games
Individual & relay medals with multiple PBs
CCCAN – (Central American & Caribbean Championships)
Relay medalist & multi-finalist
3rd former
Howard (LJ) Wallace
2022 – Goodwill Games – Age group champion with multi-medalist
Summer Florida meet
Multi-medalist and awesome PBs. The best is yet to come
2nd formers
Kristof Chambers
Summer Florida meet
Medaled in breast stroke – his favorite stroke and had PBs in other events.
A champion swimmer for JC
1st formers
Rhys Hunter – 2 times representing Jamaica
2019 – Goodwill – multi-medal winner
Carifta – relay silver medalist
Summer Florida meet – multi-medalist. A real asset to JC swim team
Christian Hall – learned to swim in July 2022, and is now a gifted swimmer.
Summer Florida meet – swam remarkable PBs for all races.
Outstanding – JC welcomes you
In the last academic year, twice JC swim team finished 3rd and once 4th, with a small team. What a force to reckon with as we grow
JC welcomes all swimmers to join our team. WhatsApp # 876-872-7030
                    +1 (876) 386-1857
                   +1 (876) 488-8556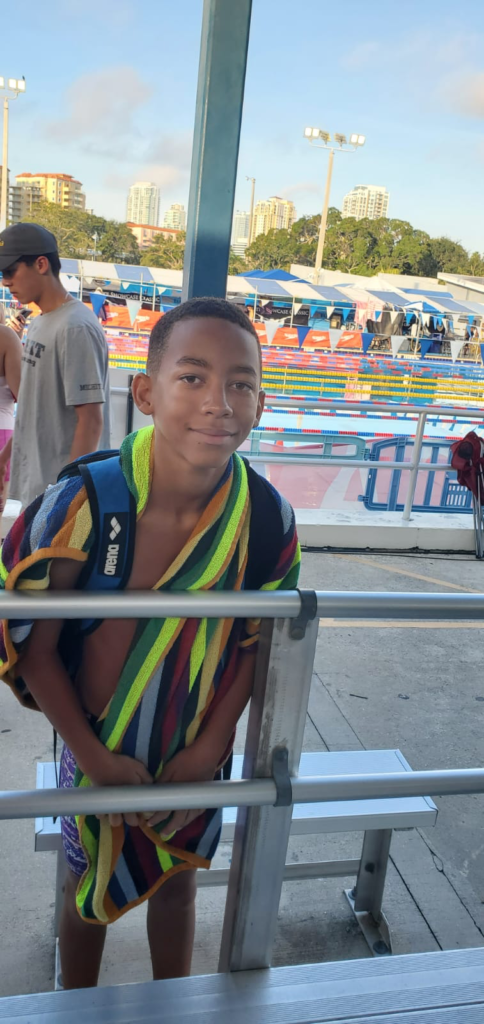 ---
SWIMMING 2022-2023
---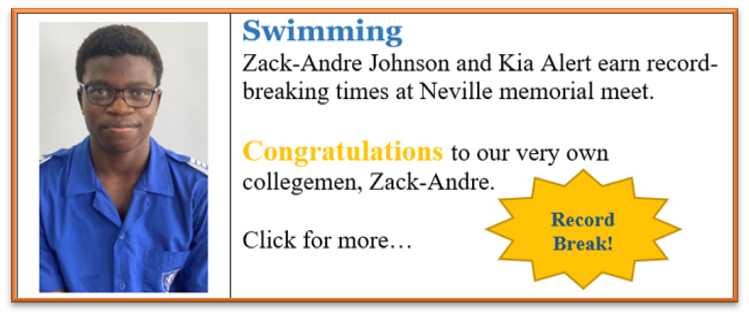 ZACK-ANDRE JOHNSON AND KIA ALERT EARN RECORD-BREAKING TIMES AT NEVILLE MEMORIAL MEET. CONGRATULATIONS TO OUR very own Collegeman, Zack-Andre.
Zack-Andre Johnson and Kia Alert were among the record breakers at the 3-day Neville Alexander Memorial Swim meet which ended at the Stadium pool, on Sunday.
Johnson broke the 13-14 boys 100 and 200-metres backstroke record, while Alert rewrote the record for the 100-metres breaststroke.
Johnson, who competes for Speedos won the 100-metres backstroke in 1-minute-04-point40 seconds erasing the previous mark of 1-minute-05-55 seconds set by Nathaniel Thomas in 2019.His winning time in the 200-metres breaststroke was 2-minutes-19-point-29 seconds bettering the previous mark of 2-minutes-19-point-60 second by Timothy Wynter in 2011.
Johnson says breaking the records is a confidence booster heading into CC-CAN, next month.
Posted by Alrick Swaby | 1 May, 2023 on Nationwide
---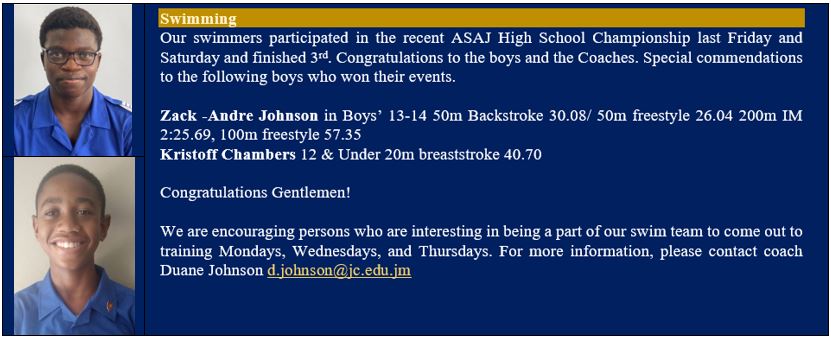 ---

---
PAST EVENTS:
---
Record Breaking swim from Lane 5 in 15&16 200m Medley
J.C Swim Coach talks about 2018-2019 season