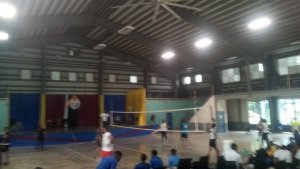 It was a mouth-watering clash last Friday inside the Auditorium when 1st & 2nd form staff room defeated 4th & 5th form staff room in what was supposed to be an easy win for the upper school teachers. After dropping the first sets (13-25), the lower school Teachers completed a reverse sweep in a improve performance, winning the second and third set (23-25 and 9-15).
It was chaos in the camp of the 4th & 5th form staff room when Denynese Louza caught fire in the final set, finishing with a set-record of 8 serves (8 points) straight. The other members of the team also add some flavor to the coffee, adding some 27 digs and hit to come out on top in the contest.
Nothing that D. Hines and R. Blake did could stop the force of the 1st & 2nd form staff room. All focus now will be on Thursday's game, come see the CLASH OF THE TITANS when the P.E & ART DEPARTMENT will take on the 4th & 5th FORM STAFF ROOM @ 3:10 pm. 1st and 2nd FORM STAFF ROOM will face ADMINISTRATIVE DEPARTMENT in the day's other game.
Who will it be? Will the P.E & Art Department begins with a win of will 4th and 5th Form Staffroom turn around their fortune.
Will 1st and 2nd Form staff room continue their momentum OR will the likes of Mr. Wong and Mr. Robinson take Admin to victory in their opening game of the competition.
POINTS STANDING
| | | | | | | |
| --- | --- | --- | --- | --- | --- | --- |
| Team | Game Played | Won | Lost | Set Against | Set Forward | Points |
| 1st & 2nd Form | 1 | 1 | 0 | 1 | 2 | 5 |
| 4th & 5th Form | 1 | 0 | 1 | 2 | 1 | 3 |
| Admin | – | | | – | – | 0 |
| P.E. & Art | – | | | – | – | 0 |