History of Mark and Patty Bogart at Jamaica College
Patty and Mark Bogart visited Jamaica in 2013 for two weeks. Mr. Bogart expressed that they hated their time here until they were invited to visit Jamaica College. That was when they realised they needed to return and be a part of what was happening here at JC.
The Bogart's are Christians and missionaries. They returned to Jamaica in November 2014, just in time to catch the Chikungunya virus. After recovering, they began their sojourn at Jamaica College. They were assigned as mentors to the accelerated 3rd Form class (3I) where they engaged the students in Bible studies, fun times and discussions about life. The Bogarts became a part of these students' lives as they moved with the class from 3rd to 4th and then 5th Form.
From there the Bogarts began working with other form classes and hosting after school and then lunch time Bible studies. Mr. Bogart could be seen sitting outside the auditorium at lunch time or under a tree in his portable sports chair. Bible studies were known to be fun and enlightening.
The Bogarts became a part of the Spiritual Enrichment Committee and contributed significantly to the planning and execution of annual crusades at Jamaica College. They were instrumental in developing a sustainable follow-up programme for 1st and 2nd Form students after the crusades.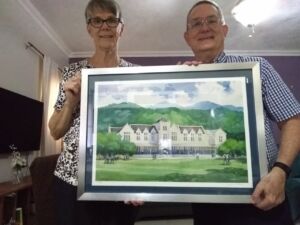 Mrs. Bogart brought strong administrative skills to bear on the work of the Spiritual Enrichment Committee. She was also known to carry cookies to Form Time and Bible studies. Mr. Bogart is a Bible teacher, past middle school teacher and sports enthusiast. He volunteered as a Chess Club Coach and the Touch Football Coach.
Both Mr. and Mrs. Bogart have a calm, engaging, caring and steady personality. They are "True Blue" and will always be a part of us. We thank God for sending them to The College.
(Article by – J Cooper-Stewart)