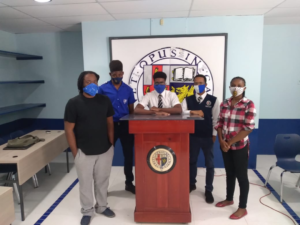 We now welcome to the podium the esteemed Griffin debaters. Join with us, in giving hearty congratulations to Jamaica College's debating team. Members of the W.S.E on August 27th squared off with Cornwall College and was rewarded the 1st runner's up position in the National Tourism Debate for 2020.
We are elated to see that we have been able to bring home this throphy stated Mr. Mazlyn. Miss Johnson also in good spirits shared that she was pleased with the gentlemen's performance and extremely proud of their growth while looking forward to greater things in the future. Both coaches gave the nod on how much they believe the young college men have grown.
Principal Robinson was also keen on the performance and hailed the young College Men as stately and composed in their demeanor as a part of his address to the team.
Team Captain Jerome Samuels added we can only go up form here.
Ladies and gentle college men we yeild to the sucess of our One College Fervet!