Heartiest congratulations to our Sixth form student Fabian Morris and the W.S.E Society. Fabian Morris is the winner of this year's installment of the Rita Marley Foundation Oratorical competition.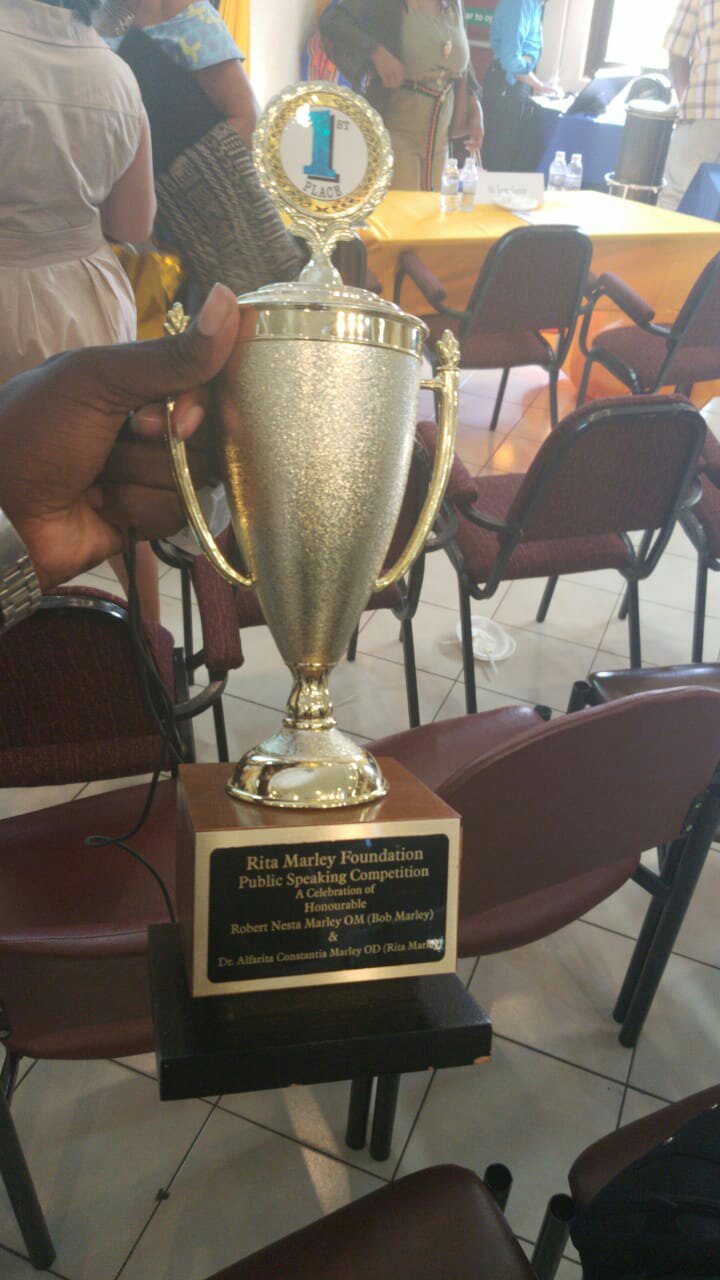 He won a first place trophy and a cash prize of $50,000. We are are always please when young men voices are heard. We are more so even more pleased when its a college man.
The Coach Mr. Mazlyn was also awarded a honorary plaque for his contribution.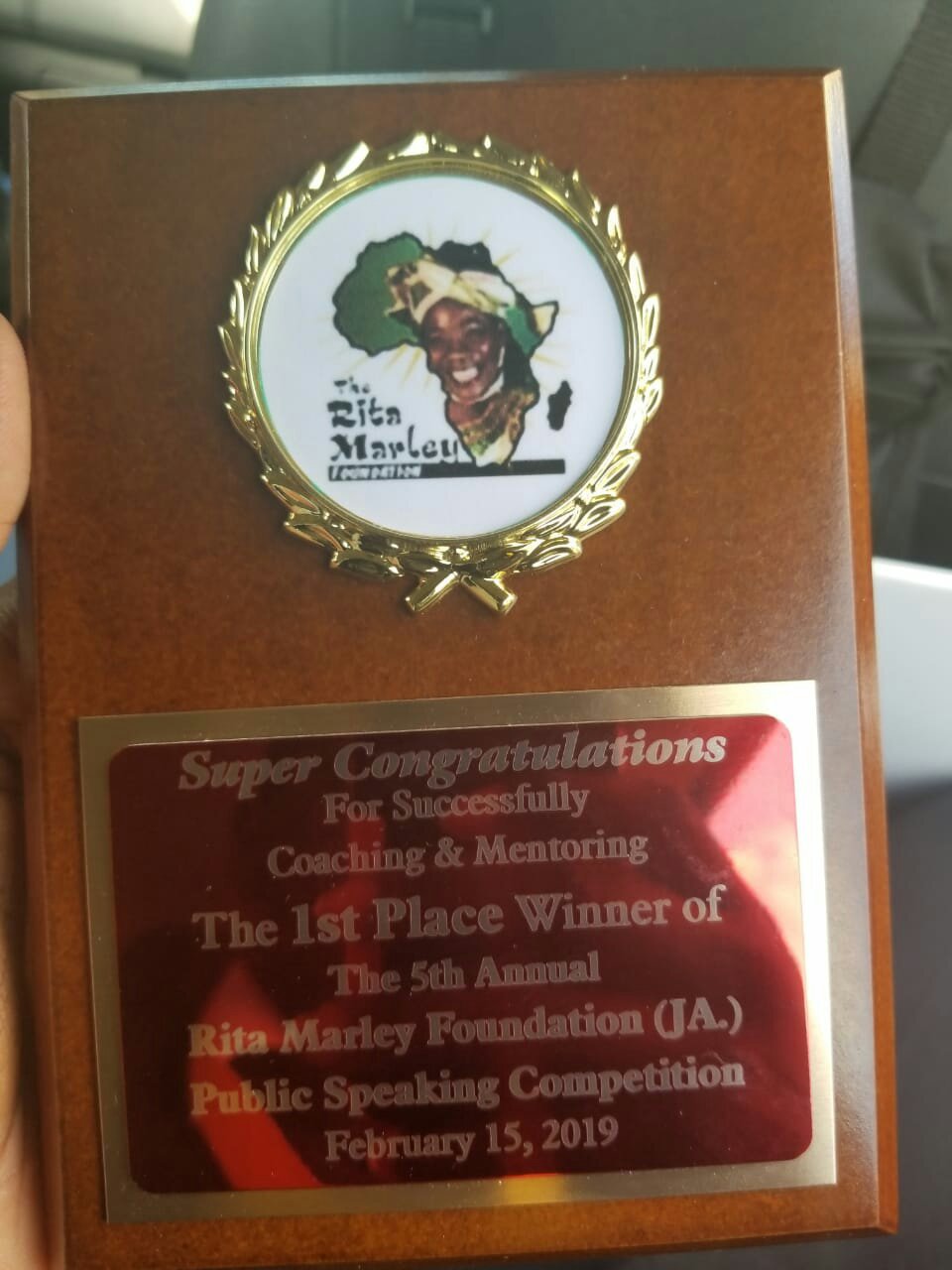 Congratulations again Mr. Morris on a Job well done.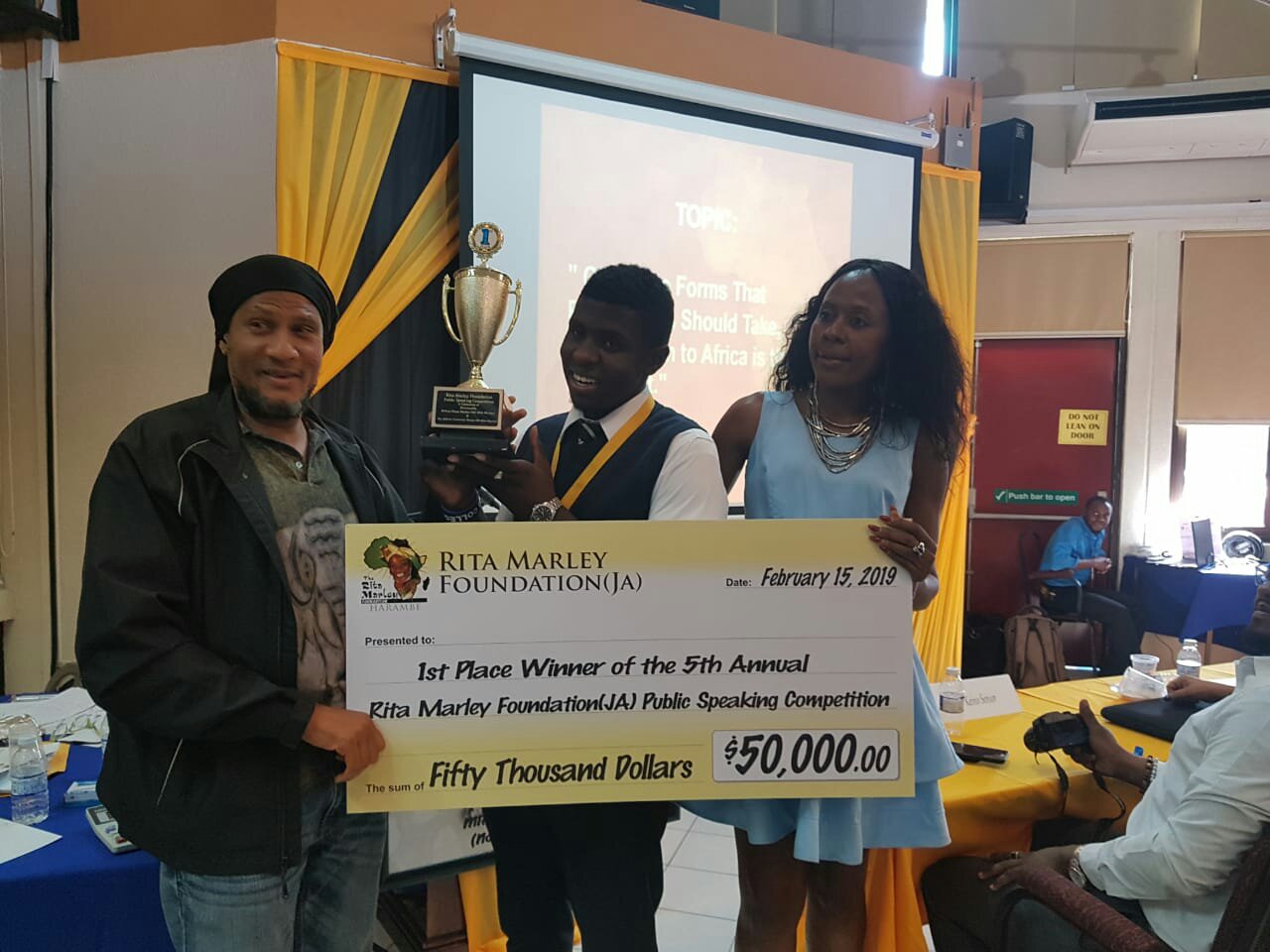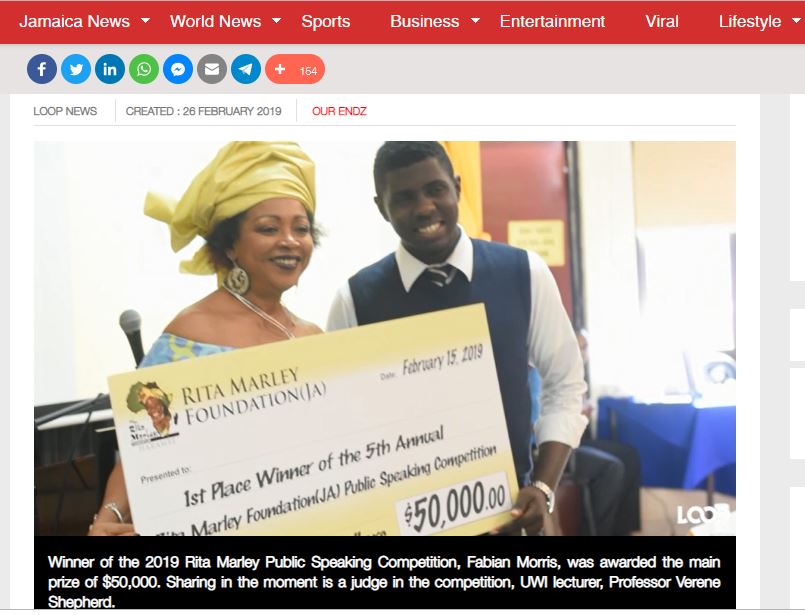 http://www.loopjamaica.com/content/jc-student-takes-top-prize-rita-marley-public-speaking-competition
JC (Fabian) in the news: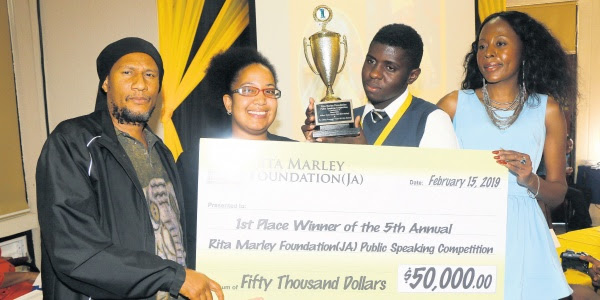 From left: Dr K'adamawe K'nife (judge), Ms Sharayne Bennett (teacher/coach), Fabian Morris (winner), Rosemary Duncan (manager, Rita Marley Foundation).
Kareem LaTouche, Youthlink Coordinator
The Rita Marley Foundation Public Speaking Competition marked its fifth anniversary with an impressive line-up of high-school orators vying for the incredible title, trophy and substantial cash.
Twelve semi-finalists met at the multifunctional room in The University of the West Indies, Mona main library for oratorical combat. The venue was bursting at its seams with a vibrant audience comprising local and international government representatives, students, parents and school officials. Master of ceremonies Dr Amina Blackwood Meeks introduced each speaker: Immaculate Conception's Lorena Eschoe; Ardenne's Saevion McFadden; Wolmer's Girls' Tamoy Fletcher; St Hugh's Jahne Mattis; Wolmer's Boys' Trevon Fletcher; Campion College's Darla Campbell; Marcus Garvey Technical's Anthonio Webba; William Knib Memorial's Sashae Campbell; Westwood High's Wendy-Ann Ivey; Jamaica College's Fabian Morris; York Castle's Joel Lyn; and Haile Selassie's Deandre Myers.
For the first round, each voiced opinions on the preassigned topic, 'Of All the Forms that Reparations Should Take, Repatriation to Africa is the Most Important." For the elite judging panel, it was no easy task assessing speakers on poise, diction, delivery, content, etc. However, only the top three could progress to the final stage. Scores were compiled and the finalists selected: Immaculate Conception High School, Westwood High School, and Jamaica College. Fabian headed into the final round with the highest score after masterfully expressing his views on reparations and repatriation to the motherland:
"The repatriation that is necessary is not a complete relocation of the diaspora to home, but building of bridges through cooperation and collaboration between Mama Africa and her children. Any relocation of the people will be more detrimental to all African people.
"We cyaa guh to Africa wid wi two long han'." We have to build economically, politically, socially and mentally in order to reach a beneficial position. As our common phrase says, 'We haffi bring back sumting fi mum fi mek mum can add on pon di house. If yuh nuh gi mum nutn fi mek she add on pon di house den lawd god!' After we contribute to the building, then we will be in a position to benefit from the collaboration.
"The people of Africa are restoring their identity despite being separated. Although the process of seasoning attempted to erase who we are, our identities live on. We can only imagine then what will happen when we start to mentally repatriate.
"Our responsibility is to not necessarily run to the continent to add to the current struggles, but to form partnerships that will bring about change for Blacks on both sides of the Atlantic. Such strength that can come about to the point where whoever wishes to repatriate, in the traditional sense, can do so with no worries about the standard of life. We are also tasked with continuing the insistence that is led by greats such as Madam Verene Shepherd and Sir Hilary Beckles that those who took out [physical and human resources] then restore! We must fight for that.
"I leave with the quote by Marcus Garvey, 'The black skin is not a badge of shame but it is a symbol of national greatness.'"
IMPROMPTU TOPIC
An impromptu topic was immediately issued: 'If Mr Nelson Mandela lived until 2018, he would have turned 100. To celebrate the centenary of his birth, the South African government designed the theme, 'Be The legacy'. In your opinion, what is the legacy Mr Nelson Mandela has left the world?'
The three finalists had 30 minutes for preparation and six minutes for presentation; they were then whisked into private rooms to write their speeches. As this took place, Bongo Herman, Isha Bel, Grub Cooper, Excelsior High School band and Fikre Manassi entertained the anxious crowd.
Each speaker articulately delivered presentations and wooed the large gathering. When results were revealed, Jamaica College's Fabian Morris had secured the first-place spot, having eloquently declared his opinion on Nelson Mandela's legacy:
"The legacy is neither him being the first black president of South Africa nor becoming a state leader after being imprisoned for 27. His legacy is Ubuntu.
"He decided to leave his hate and bitterness inside the prison in order to claim his destiny, which included inspiring Blacks around the world in the fight for recognition of our value.
"Ubuntu is humanity. An interconnectedness, like a family which plays on the strengths of its members. Ubuntu calls us to 'stick by me as I stick by you'. In carrying this through, Mandela had the burden to not leave his people behind, but to stick by them. That was his motivation to lead the people. Playing out of this were the following traits which factor into his legacy: humility, love, sincerity, simplicity, pure generosity, absence of vanity and greatness to serve others. These are qualities within the reach of every soul. This spiritual connection allowed him to navigate the hardships he faced before and after leaving prison to impact those around him.
"Let us do like Nelson Mandela and love one another. Become so closely connected that we are able to do what we never thought possible. Not for recognition but because of our connectedness."
Westwood High School's Wendy-Ann Ivey earned second place and Immaculate Conception's Lorena Eschoe was third.
Peace & Love,Rosemary Duncan
Manager, The Rita Marley Foundation Jamaica
56 Hope Road, Kingston 6HARAMBE