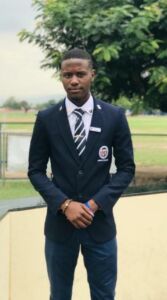 Mickoy Morrison, who attended Jamaica College from 2017-2019, is one of this year's proud recipients of the UWI Township Scholarship in the inner-city community of August Town.
Over the last three years Morrison has struggled to be physically present for his education. In 2017, after transferring from Mona High, he broke his leg days before the start of 6th form. In 2018 he was shot in an incident in his community, narrowly escaping with his life. Both incidents inadvertently forced him to be absent for many days. Despite these challenges Morrison was able to pass four (4) Unit 1 and three (3) Unit 2 CAPE subjects – showing his tenacious spirit and ability to make his life better.
Morrison balanced his studies with extra-curricular activities, becoming president of the school's exclusive Digital Arts Club, as well as a member of Sixth Form Association and Key Club.
The UWI Township Scholarship is offered to students from surrounding inner-city communities who need financial assistance to attend university. The Mona Social Services department is in charge of assessing and accepting applicants.