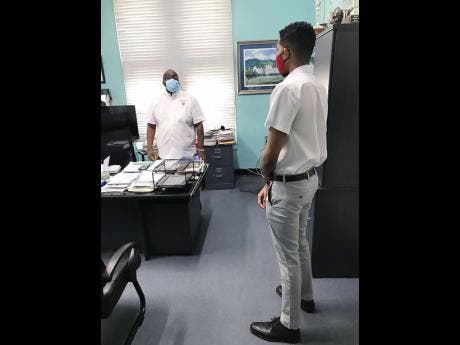 Principal of Jamaica College, Mr. Wayne Robinson, was a picture of pride and gratitude today as he spoke briefly with a kind-hearted, passionate young man who was selflessly making a contribution to his nation and the less fortunate. This young man was Zachary Murray, an upper sixth form student of Campion College and founder of Zach's Device Drive.
The initiative began with Murray's desire to help students stay connected and take full advantage of online learning during the COVID-19 pandemic. He understood the plight of his fellow students nationally who had no suitable device, or, in many instances, had to share a device with other members of their households. As a result he pursued his idea of  "1 child, 1 device, leaving no one behind", and encouraged students at his high school to donate new or lightly used devices to students without devices. However, Murray did not stop there, as he decided to spread his message and act of kindness by partnering with the SAKHI group (meaning a friend for life), allowing him to donate devices to other corporate area high schools, chief among them St. Andrew High School for Girls, Pembroke Hall High School and Jamaica College.
Murray made his donation of two tablets to the Old Hope Road boys school on Tuesday, October 6, 2020. Jamaica College is heartened to see a young man making a contribution of this kind to the development of his country. To date Zachary Murray has donated 21 tablets in his bid to lessen the digital divide.
Read full Gleaner article here